Hours of water fun for children this summer! B
est gift for 1-12 years old children boys girls(1 2 3 4 5 6 7 8 9 10 11 12 years old boy & girl).
Kids Watermat allows children to have hours of fun outdoors this summer. It's the best way to fight the heat.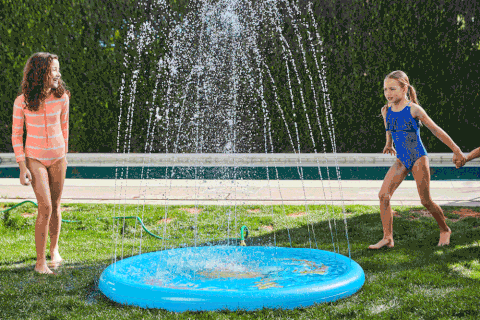 CHEAPER THAN A SWIMMING POOL-- It's no longer necessary to buy an expensive swimming pool to fill up with liters of water. This playmat is much more fun and cheaper!
A LOT OF FUN AT HOME--Even if you're not allowed to leave the house, you'll have plenty of cooling. This way, it just becomes a little more bearable.
FAST AND EASY--The Kids Watermat is easy to connect to your normal water connection and then provides hours of water fun without the need to worry about it.
SAFE FOR KIDS--The Kids Watermat is made of high-quality materials to ensure the safety of children. Your children can safely have lots of fun alone or with their friends.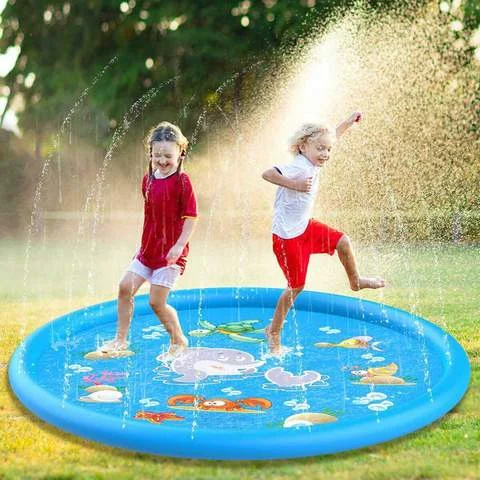 PERFECT SUMMER OUTDOOR TOY
Best gift for kids in hot summer. This sprinkler mat can spray spout to dispel the hotness, keeping kids cool and safe, allowing them to play with water without the hazards of traditional swimming pools.
SAFE DURABLE MATERIAL
Made from quality 0.25mm thick BPA-free PVC material with good load-bearing, safe, durable, and not easy to break. A high-frequency welding process ensures a strong joint to prevent rupture during use.
EASY TO SET UP & LARGE SIZE
Simply lay it on, connect to a hose, and ready to use. 39 inch in diameter, large enough for kids to sit down and stand up, they can safely play on this mat.
There are two ways to install:
1. using the air pump(not included in the package)
☆ Inflate the outer ring.

☆ Inflatable the button of the mat, then press the inflatable valve flat.

Plug the connector to the water inlet and relating the valve. 
2. using the water hose
☆ Install seal ring and water Inlet joint.
☆ Tighten the water inlet.
☆ Connect the water pipe.
☆ Connect the water hose.
☆ Just spend 10-20 minutes spreading it out flat, connecting your hose to it, and remaining the water on.
COMPACT & PORTABLE
Easy to empty out and folded to store when they were done. Folding, lightweight and portable, easy to carry around to use at the garden, yard, by the swimming pool, beach, etc.
Specifications:
Material: PVC

Diameter: 100cm

Color: blue, yellow

Suitable Age: 3+
Package Included:
Using tips for the water toys for kids outdoor:
1. Don't leave the child unattended while the device is in use. Use only under adult supervision.
2. Don't lift/move the splash pad when is filled with water as the water weight might cause ruptures.
3. Don't contact the splash play mat with sharp objects such as rock, gravel, shells, glass fragments, metal fragments, wood chips, etc.
4. Sprinkler's play mat is made from durable environmental and non-toxic PVC. Due to the production process, maybe there are some smells, it will disappear in a few days. It's no harmful chemicals while kids playing. Please be assured that using.
Q&As:
1. Can two 7-year-olds and mom all play in this at the same?
Yes, of course, the splash pad is 39'', large enough for you and your kids to play together. Buy it and have fun this summer.
2. 
Do I need to keep filling the water spray pad?
Yes, you need. The connection of the spray pad really easy, please do not worry.
3. 
How hight the water goes?
The water can get quite high (taller than your average 12-year-old) depending on how high you turn up the hose. We recommend never turning the hose up past halfway to increase the lifespan of your splash pad.